Stage Été 2023 :
LA PEINTURE DU PAYSAGE
EN DRÔME PROVENCALE
Stage de peinture avec Nadine Nacinovic
Stage de 3 JOURS : 300 €
Matériel inclus
Au cœur des paysages de la Drôme provençale, vous apprendrez à capter les lumières changeantes sur les champs de lavandes et de tournesols, laisser résonner votre sensibilité artistique et oser le lâcher prise. J'accompagne chacun de façon personnalisée.
Le stage vous permet d'enrichir vos connaissances techniques du dessin, de la couleur et d'affirmer votre expression artistique.
Above all, the workshops led by Nadine are spaces of discovery, conviviality and exchange, and are in her image: cheerful, dynamic and intense. The working atmosphere, both studious and friendly, frees the imagination and allows the participants to share their experiences with the rest of the group.
Thanks to precise instructions based on solid experience, you will be able to discover painting, deepen a technique, share, dare, question... and create, quite simply.
Veuillez trouver mes dates de stages 2023 ci-dessous ainsi qu'un formulaire pour vous inscrire directement
JUIN vendredi 30 / samedi 01 juillet / dimanche 02 juillet
JUILLET mardi 25 juillet/ mercredi 26 / jeudi 27 juillet
AOÛT mardi 08 / mercredi 09 / jeudi 10 Août
Niveau : tous niveaux – débutant, amateur, confirmé
Horaires : 10h – 13h / 14h30 – 17h30 (Repas de midi pris sous forme de pique-nique)
Lieu : le stage a lieu en pleine nature en Drôme Provençale. Si la météo ne le permet pas, il se fera dans l'atelier de Nadine Nacinovic : 435B Chemin des Dames 26160 Salettes
Matériel et peinture fournis (votre chevalet et table de camping sont les bienvenus)
-Enseignement par personne / 3 jours : 300 euros* horaires :10h –13h / 14h30 – 17h30
INSCRIPTION : Envoyez 2 chèques à mon atelier de Salettes pour finalizer l'inscription par formulaire ci-dessous.
120€ (chèque d'acompte) encaissé dès réception de l'inscription, pas de remboursement si annulation à moins de 30 jours.
160€ pour le stage de 3 jours / Matériel inclus ( hors pique -nique)
Ce deuxieme chèque sera encaissé le 1er jour du stage.
Les 20€ restant seront à payer sur place en liquide .
Les deux chèques sont à libeller à l'ordre de Nadine Nacinovic.
Je fournis le matériel de base : l'acrylique, les pinceaux, papier, fusain, gesso…
Prévoyez : chiffons, toiles, chapeau,des chiffons ; du sopalin , bouteille d'eau et chevalets si vous avez. J'ai des tables de camping que je mets à disposition.
Repas de midi pris en commun sous forme de pique-nique (où chacun amène quelque chose).
L'hébergement reste à votre charge. (Possibilité d'hébergement en demi-pension très peu cher tout proche).
Pour plus d'information, prendre contact avec Nadine Nacinovic par mail [email protected] ou par téléphone au 06 75 11 05 99
* Possibilité d'hébergement ( peu cher en demi-pension) proche du lieu du stage – liste disponible sur demande.
Registration for summer courses.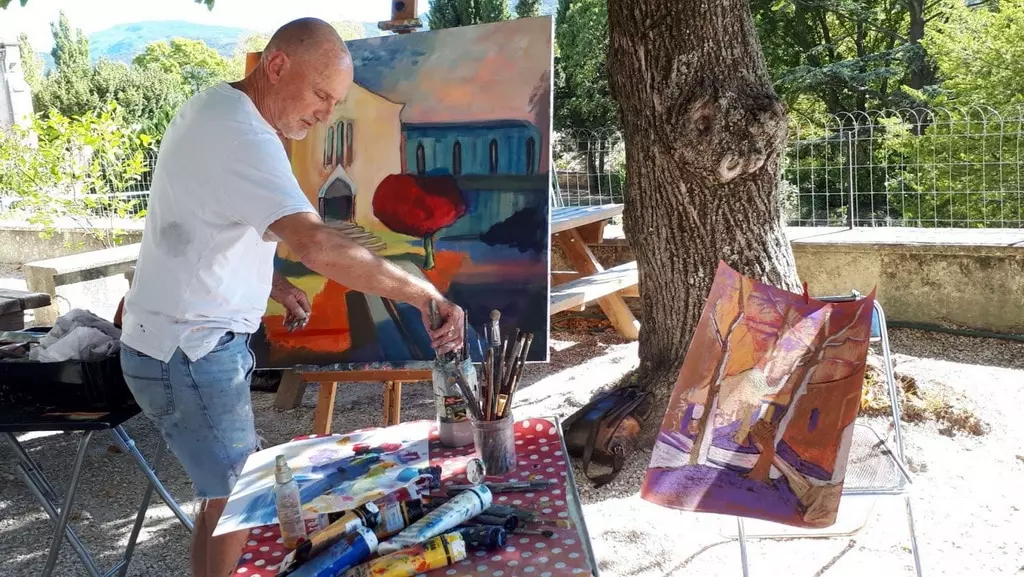 Painting courses / one Wednesday per month:
Mercredi 22 février
Mercredi 15 mars
Mercredi 12 avril
Mercredi 24 mai
Mercredi 21 juin
Price: 50€ per session (material included, excluding canvas)
+ 40€ registration fee for the year.

Schedule 9.30am - 5.30pm

The courses are designed to allow people of all levels (beginner/advanced) to work together.
Themes are given on one or two Wednesdays. Mainly painting, material, collage and artistic expression workshops.
The meal is in the form of a shared picnic in the workshop.
Registration for painting courses.