She likes to paint landscapes!
His luminous and colourful canvases quiver under his brushes. The vegetation breathes, the trees deliver their flamboyance. Nadine Nacinovic invites us on a journey through the Drôme and the South East. There is breath in her paintings, a pulsation of intense life that springs from her choice of colours. Her touch, her workmanship transcribes as closely as possible the sensations of the Landscape, of the density of each living thing.
I feel a strong attraction to nature, which nourishes and enchants me with its life force: it is its ever-flowing movement, its colourful harmonies and its changing matter, like a human state of mind, that I strive to capture in my painting.
Very early on, I was fascinated by art and worked at the Picasso Museum in Antibes, then at the Renoir Museum in Cagnes-sur-Mer. I confirmed my taste for painting by exploring the museums of the Côte d'Azur, which allowed me to refine my taste and my pictorial desires. I exhibit my paintings in various places such as St Paul de Vence, the castle of Cagnes-sur-Mer, or the Negresco in Nice.
Driven by a need to discover more and more artists and forms of pictorial expression, I moved my brushes to Lyon to attend a fine arts course. There I met two painters with whom I became friends and set up an association, "Les Abeilles" (in homage to the Montparnasse beehive), which enabled us to spread our colourful energy and our desire to share our artistic fervour between Lyon, Paris and the Drôme for almost 10 years. Art is our daily life, it has to penetrate in the one of the others, to go to their meeting: we make body with our painting to realize living pictures on very big canvases, set up artistic performances, realize monumental sculptures. Wherever possible, and where it is not expected, we introduce forms and colours into the urban space to sow a little magic and create conviviality.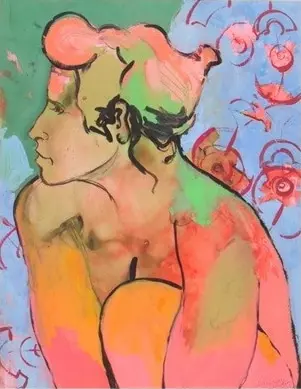 My installation in the Drôme allows me to work in harmony with nature, which I find at the door of my studio. It is in this region that my palette discovers the emotions of outdoor painting. Until then, I had been a painter of browns, greens and browns, but I now turn to a range of warmer colours, some would say fawns.
My studio, place of inspiration an old convent "farm", hence its name
In the "Ferme des Dames" I have designed it in my image: feminine and harmonious. Conviviality rhymes with calm and pleasure, I paint, exhibit and organise workshops and painting courses, sometimes with renowned painters.
Sharing my painting space in this way allows me to provoke encounters from which I am enriched. This new stage is marked by a certain artistic maturity, I distribute my time between training courses, exhibitions, residences or artistic interventions.
Always on the move, ready to take up challenges, I like to surprise and let myself be surprised by unexpected and varied projects, such as being part of the artistic caravan of the Babel Caucasus project, ephemerally transforming a square in the historic centre of Naples, or painting a caravan for the La Bizz art nomad festival
For me, art enchants life and allows me, by being present to the world, to look at what surrounds us every day with wonder and to reconnect with the pure energy of the child. Letting myself be guided by my brush, itself carried by an emotion, a feeling, in front of a model who poses or a landscape with contrasting colours, I am inspired by my daily life to create mixtures of bright and voluptuous colours. The painting I propose is spontaneous, lively, human, free from the perfect line or an irreproachable technique. Projecting in my paintings a sincere emotion, I invite the spectator to be carried away by his own emotion.