Nadine Nacinovic biography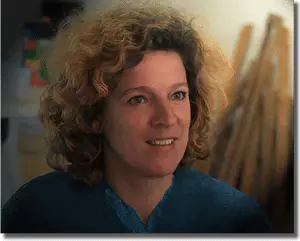 Born in Antibes to a Croatian father and an Italian mother, who passed on to me their generosity, sense of sharing and taste for humanity, I draw strength and vitality from my Mediterranean roots.
I transpose this positive energy onto my canvases through ample and spontaneous gestures, shaping sincere and lively portraits and bucolic, dynamic landscapes, inviting to reverie, thanks to a very nuanced colour palette.

I grew up between fields and woods and I feel a strong attraction to nature which nourishes and enchants me with its life force: it is its ever-flowing movement, its colourful harmonies and its changing matter, just like a human state of mind, that I try to capture in my painting.
Very early on, I was fascinated by art and worked at the Picasso Museum in Antibes, then at the Renoir Museum in Cagnes-sur-Mer.
I confirmed my taste for painting by exploring the museums of the Côte d'Azur, in particular the Maeght foundation, which allowed me to refine my pictorial tastes and desires. I am lucky enough to have already exhibited my paintings in various places such as St Paul de Vence or the castle of Cagnes-sur-Mer.
Driven by a need to discover more and more artists, sensitivities, and forms of pictorial expression, I moved my brushes to Lyon to attend a fine arts course in painting from 1986 to 1991. There I met two painter friends, Naima and Hélène, with whom I became friends and set up an association, « Les Abeilles » (in homage to the Montparnasse beehive), which enabled us to spread our colourful energy and our desire to share our artistic fervour between Lyon, Paris and the Drôme for almost 10 years. Art is our daily life, it has to penetrate in the one of the others, to go to their meeting: we make body with our painting to realize living pictures on very big canvases, set up artistic performances, realize monumental sculptures. Wherever possible, and especially where it is not expected, we introduce forms and colours into the urban space to sow a little magic and create conviviality.
In 1998, my move to the Drôme invites me to refocus on my family, in particular on my children Ulysse and Natacha, and allows me to work in harmony with nature, which I find at the door of my studio, installed in an old sheepfold. It is in this region, practised in my first years of work, that I pass from paper to canvas, and from the opaque sensuality of gouache to the luminous explosion of acrylic, which forces me to redefine my palette to find the emotions of painting outdoors. Until then, I had been a painter of browns, greens and browns, but now I am turning to a range of warmer colours, some would say fawns.

My studio, I have arranged it in my image: feminine and harmonious. Conviviality rhymes with calm and pleasure, I paint, exhibit and organise workshops and painting courses, sometimes with renowned painters.
Sharing my painting space in this way allows me to provoke encounters from which I am enriched. This taste for others and for sharing led me to take a course in art therapy in 2000. During this new stage marked by a certain artistic maturity, I distribute my time between training courses, exhibitions (Valaurie, Dieulefit, Poët-Laval, Montélimar, the Négresco, the Château du Poët-Laval, etc.), residences or artistic interventions, and actions for the Fondation Caisse d'épargne pour la solidarité or for the Fondation Abbé Pierre.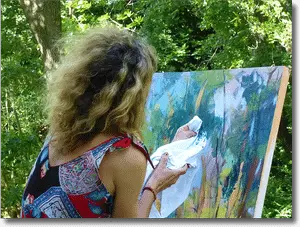 Always on the move, ready to take up challenges, I like to surprise and let myself be surprised by unexpected and varied projects, such as being part of the artistic caravan of the Babel Caucasus project, ephemerally transforming a square in the historic centre of Naples, or painting a caravan for the La Bizz art nomade festival. For me, art enchants life and, by being present to the world, allows us to look at what surrounds us with wonder every day and to reconnect with the pure energy of the child. Letting myself be guided by my brush, itself carried by an emotion, a feeling, when faced with a model posing or a landscape with contrasting colours, I draw inspiration from my daily life to create a mixture of bright and voluptuous colours. The painting I propose is spontaneous, lively, human, free from the perfect line or an irreproachable technique. Projecting a sincere emotion in my paintings, I invite the viewer to be carried away by his own emotion, to finally find a kind of truth. Today, having reached a turning point in my life, having reached pictorial maturity, I am once again searching, and trying to free myself from a certain number of commitments to better find myself.

Who knows what this next step will bring?