Summer 2021 course:
Thematic courses, in-depth workshops or continuous training: the formulas proposed by Nadine, intended for beginners as well as for advanced learners,
The courses, which are open to children, enlightened amateurs or professionals, are varied and adapted to the level and requirements of each person. Nevertheless, they all offer a privileged moment and a dedicated creative space, allowing you to escape from your daily life for a moment to share a passion with others, that of painting together.
Above all, the workshops led by Nadine are spaces of discovery, conviviality and exchange, and are in her image: cheerful, dynamic and intense. The working atmosphere, both studious and friendly, frees the imagination and allows the participants to share their experiences with the rest of the group.
Thanks to precise instructions based on solid experience, you will be able to discover painting, deepen a technique, share, dare, question... and create, quite simply.
Please find my 2021 course dates below as well as a form to register directly
+ Friday 25 / Saturday 26 / Sunday 27
+ Friday 16 / Saturday 17 / Sunday 18
+ Friday 06 / Saturday 07 / Sunday 08
+ Friday 10 / Saturday 11 / Sunday 12
Registration for summer courses.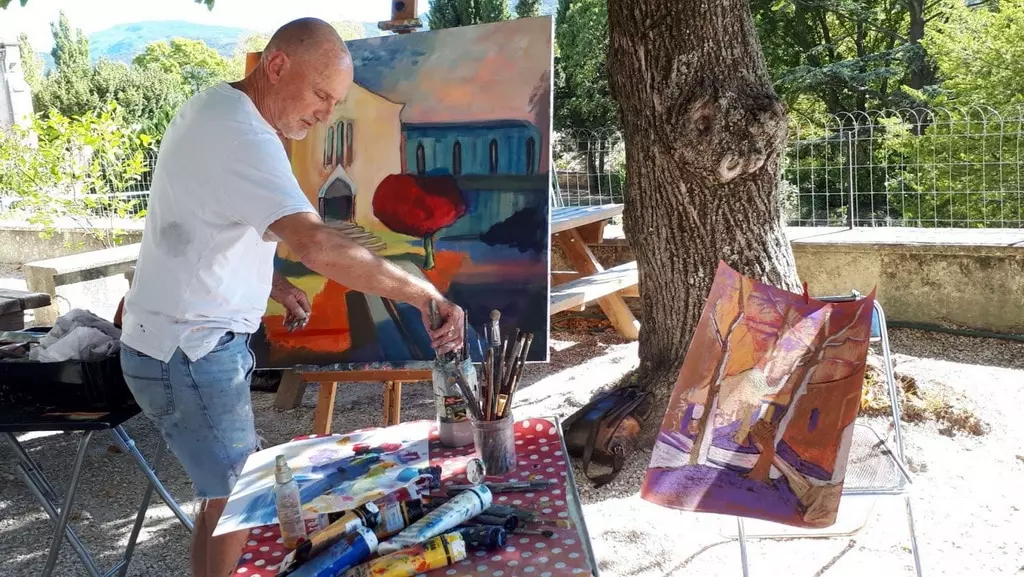 Painting courses / one Wednesday per month:
Wednesday 17 February
Wednesday 24 March
Wednesday 21 April
Wednesday 26 May
Wednesday 23 June
Price: 50€ per session (material included, excluding canvas)
+ 40€ registration fee for the year.

Schedule 9.30am - 5.30pm

The courses are designed to allow people of all levels (beginner/advanced) to work together.
Themes are given on one or two Wednesdays. Mainly painting, material, collage and artistic expression workshops.
The meal is in the form of a shared picnic in the workshop.
Registration for painting courses.